For many years, we had to venture at least four hours out and hire a pantoon boat guide at Clear Lake to photograph Western or Clark's grebes courtship behaviours. It was high up on everyone's bucket list to photograph the grebes dancing on water, but with the distance and pantoon boat availabilities coupled with cost, it continues to remain on the list for many — until the last two years when things started to change. We are now blessed that the birds have roamed closer to us in the Bay Area for their breeding habitat.
Both Western and Clark's grebe look very much the same. So how do you tell which is which? There's a subtle yet obvious difference between the two. While both of them have a black cap on their head, the Western grebe's cap covers their eyes while Clark's is above their eyes. The Clark's seems to be more beautiful as their red eyes are more visible with their black cap's placement.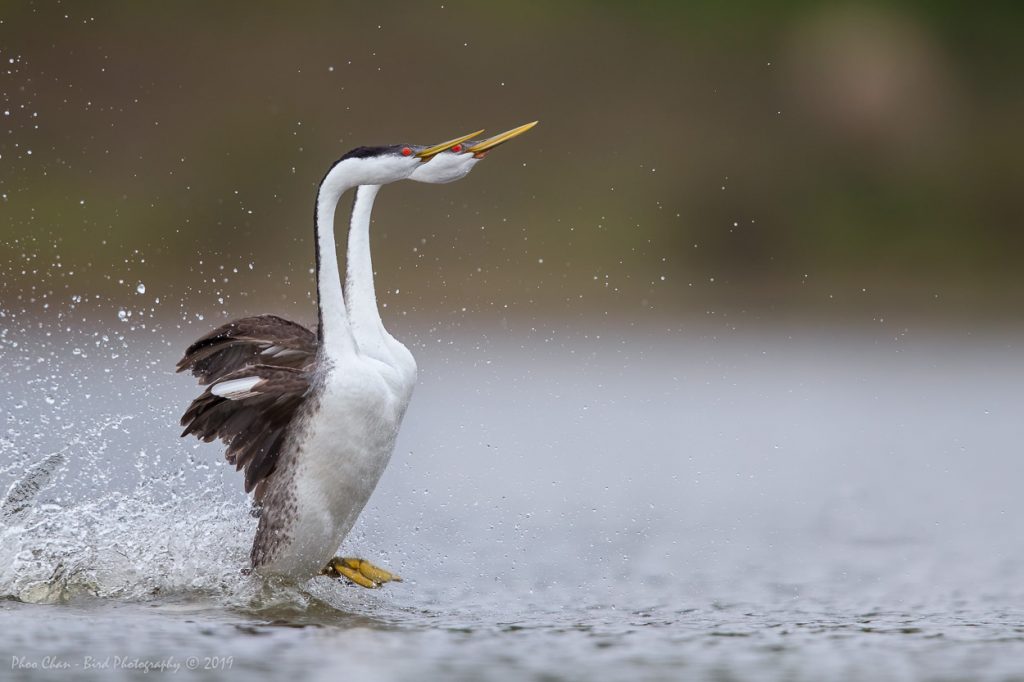 My first decent shots of the behaviour were captured from the Quarry Lake, which is only 15 minutes away from where I live. You can check out the shots from my other blog here. There is yet another location situated about 40 minutes away from Fremont – Calero County Park, San Jose. The park is popular for fishing and motor-boating activities.
I have seen many good photos posted by a few photographer friends from last year, the year I took a little break from going places with my camera. This year I was motivated enough to try out my luck by showing up in March, a very early stage of the season, where I only saw a single rushing. Even though it was rather a distance away to get a decent shot, it was good assurance to be back for more actions now that they are there.
It was the first Saturday of April and I was rather excited when it was forecasted to be a rainy day, since my last experience shooting the grebes in the rain at Quarry Lake was a pleasant one. Pleasant not in the sense of getting soaking wet, the rain, in a way, adds a dramatic mood to the scene that spices up your shots. Speaking of spicing up your shots, I'm a big fan of low angle shots especially for water fowls.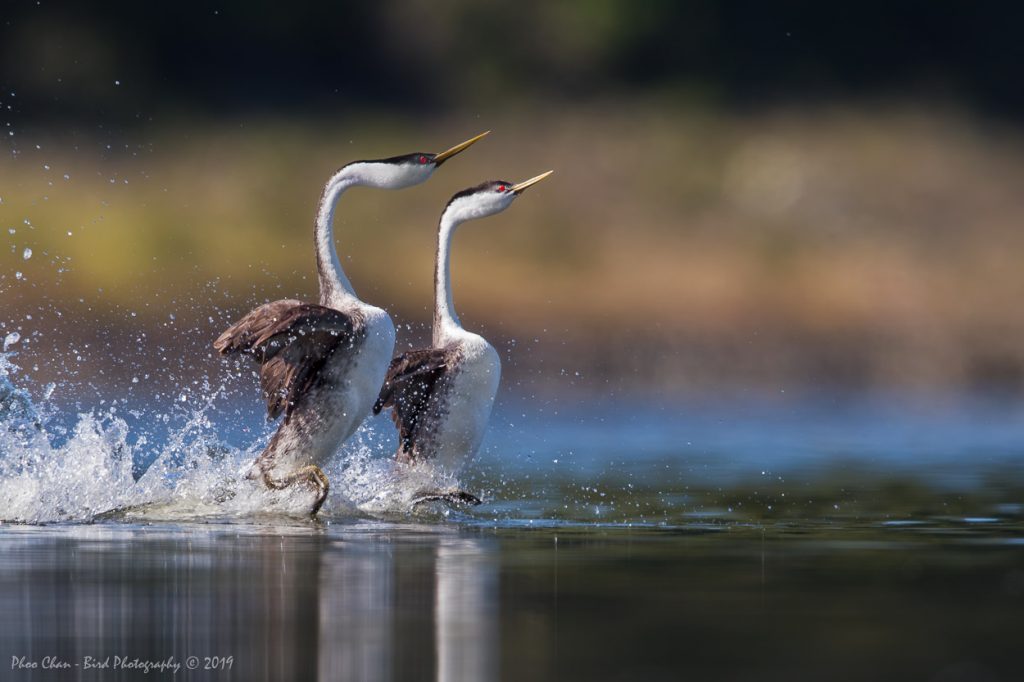 The low angle POV not only provides a thin depth of field that separates the main subject that is in focus from its surrounding, but also adds a creamy background layer resulting in a dual layer background: water and backdrop that can be land or vegetation as opposed to shooting high up on the subject that results in having not-so-interesting subject with the water that is also in focus.
Anyway, back to our dancers, there were more than twenty pairs of both Western and Clark's grebes gathering around the corner of a cove, which seems to be an ideal location for the grebes as the cove was surrounded with abundance of green vegetation for their nesting. This is also ideal for adding a creamy background to the shots instead of having only blue water in the backdrop.
However, it was situated next to the park's boat launch dock. The boats work both ways and they can be both good and bad. Depending on their size, bigger boats make sizeable waves that ripple down, distracting the birds from performing the ceremony. On the other hand, it is the roaring engine along with the waves that ripple down waking the birds from their sleep to start engaging in an act that makes them so special than other species.
What is so unique about these North American waterbirds is that they have high standards when it comes to attracting and keeping their mate. If one of them can't "walk" on water, he or she is out of luck.
The grebes engage in an elaborate courtship ritual maneuver called rushing during the spring mating season in which the male and female lift their torsos out of the water and run across the surface side by side for about sixty feet. A combination of up to 20 steps per second and forceful slaps on the water surface help the largest vertebrates to defy gravity and "walk" on water.
It happens fairly quickly, so some basic understanding of the birds' behaviour would help one to anticipate the actions in getting better shots, although as usual luck plays a big part in photographing wildlife in general in terms being at the right place or angle at the right time.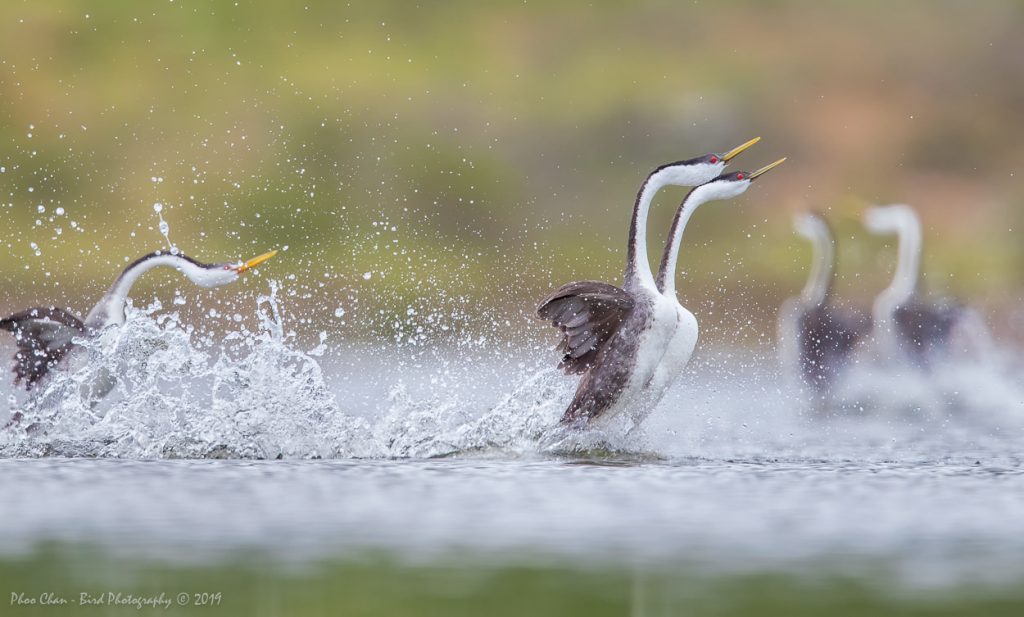 The rushing ceremony starts out with two grebes which can be a pair of male and female, although at times it is between two males attracting the female by bopping their heads towards each other right above the water surface signalling their partner to get ready.
This is when you need to get ready to lock the subjects in focus and get ready to trigger the shutter through out the display.
This courtship display can last up to seven seconds so depending on the gear you use, your camera may run out of buffer to capture the whole sequence. To mitigate this, you can shoot in JPEG to capture more frames instead of using RAW.
However, getting all shots as keepers in JPEG can be tricky since maintaining the correct exposure for the whole sequence on the fast moving white subject against different lighting environments is not easy. You can still manage to salvage the details of those slighty over-exposed shots if you shoot RAW but out of luck with JPEG.
Being able to witness this courtship display makes you appreciate wildlife and nature more than before. It also promotes the awareness of how precious nature can be and how one should not only not take them for granted, but also help by preserving their habitat.
Comments
comments