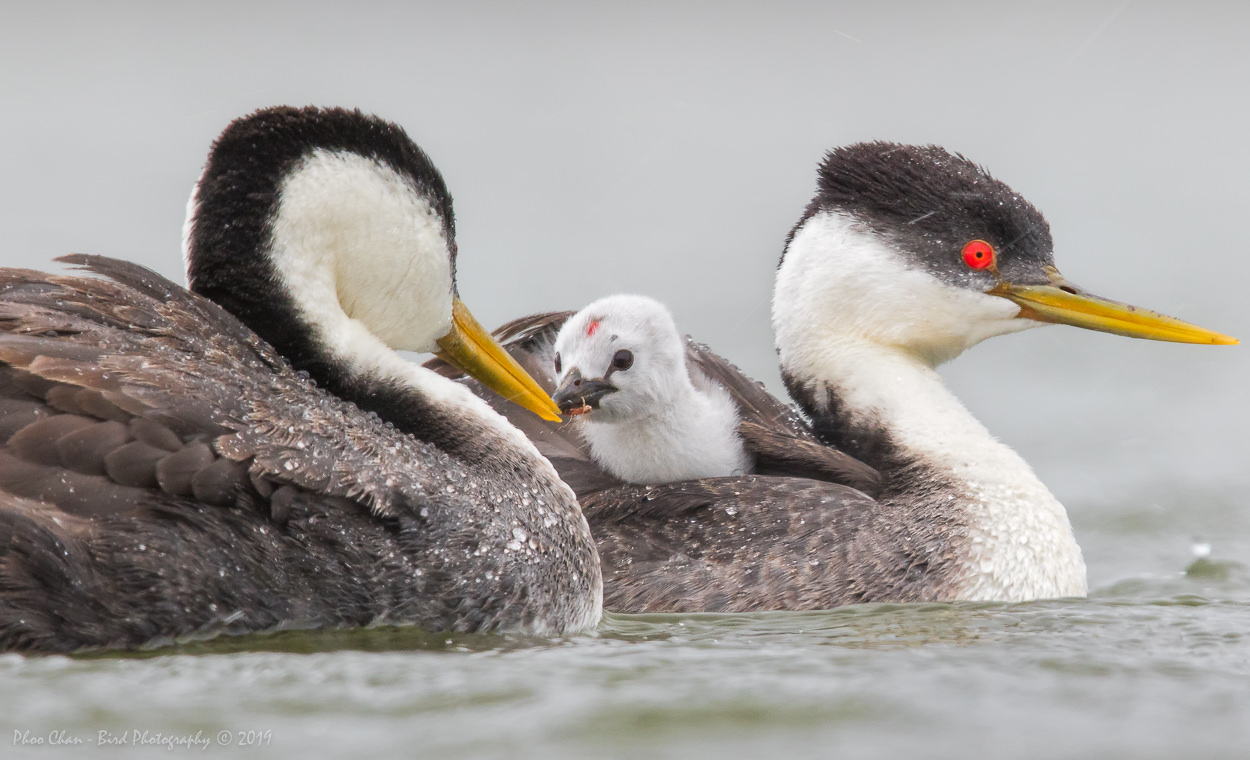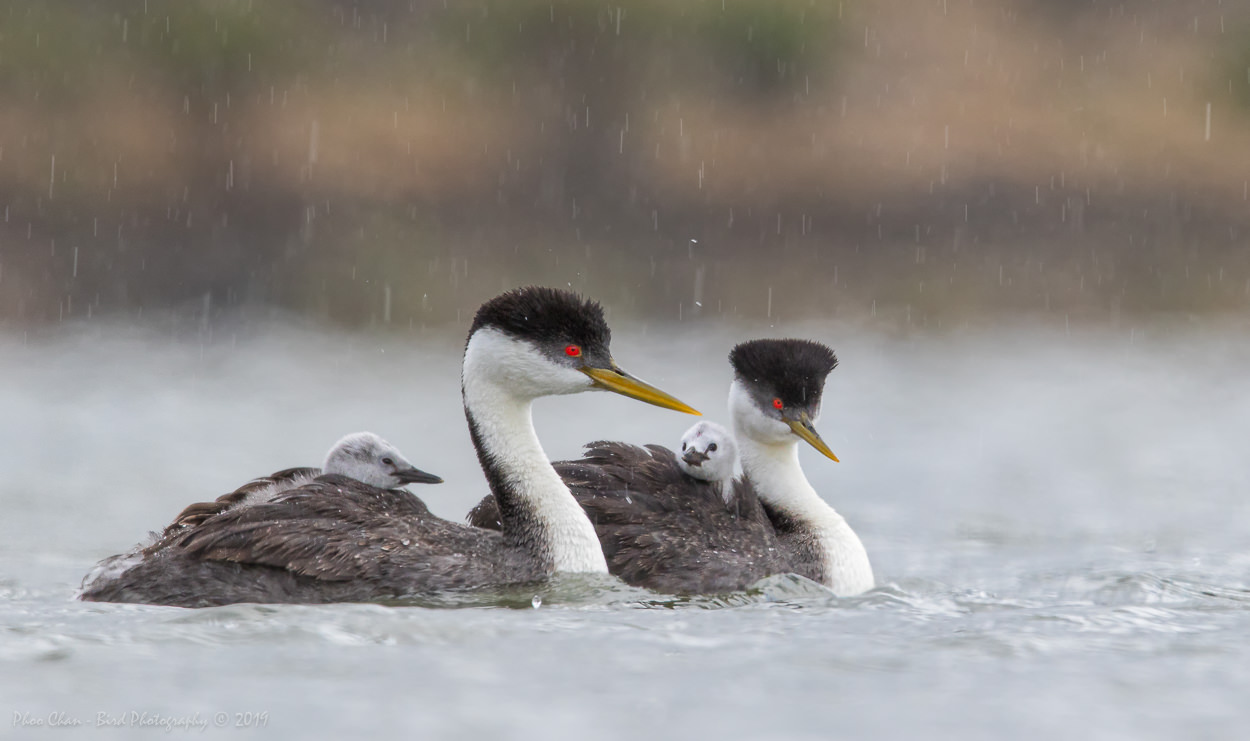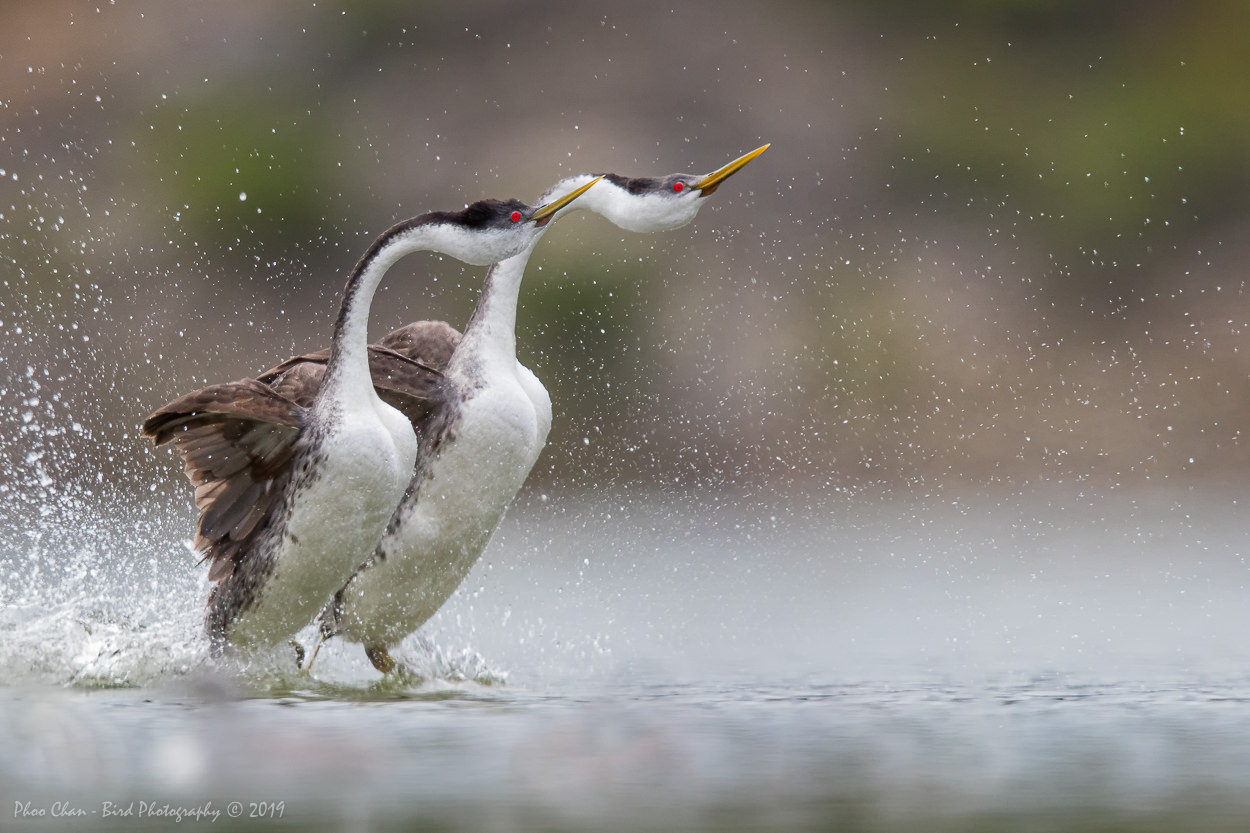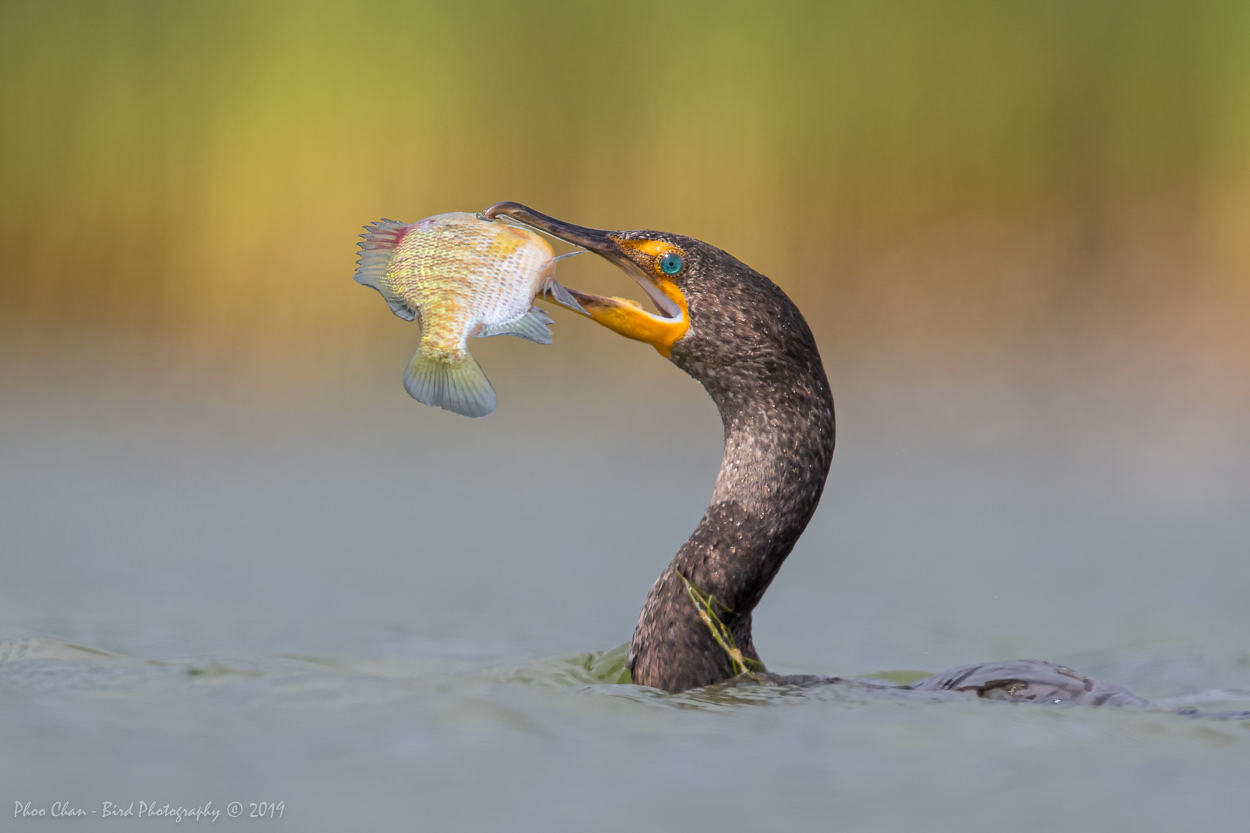 I just love doing bird photography in the rain. I was quite excited for the weekend of May 18-19 when the weather was forecasted to be rainy. Needless to say, it was rather odd to have that much rain this time of the year in the Bay Area, but it was an opportunity that I did not want to miss out on.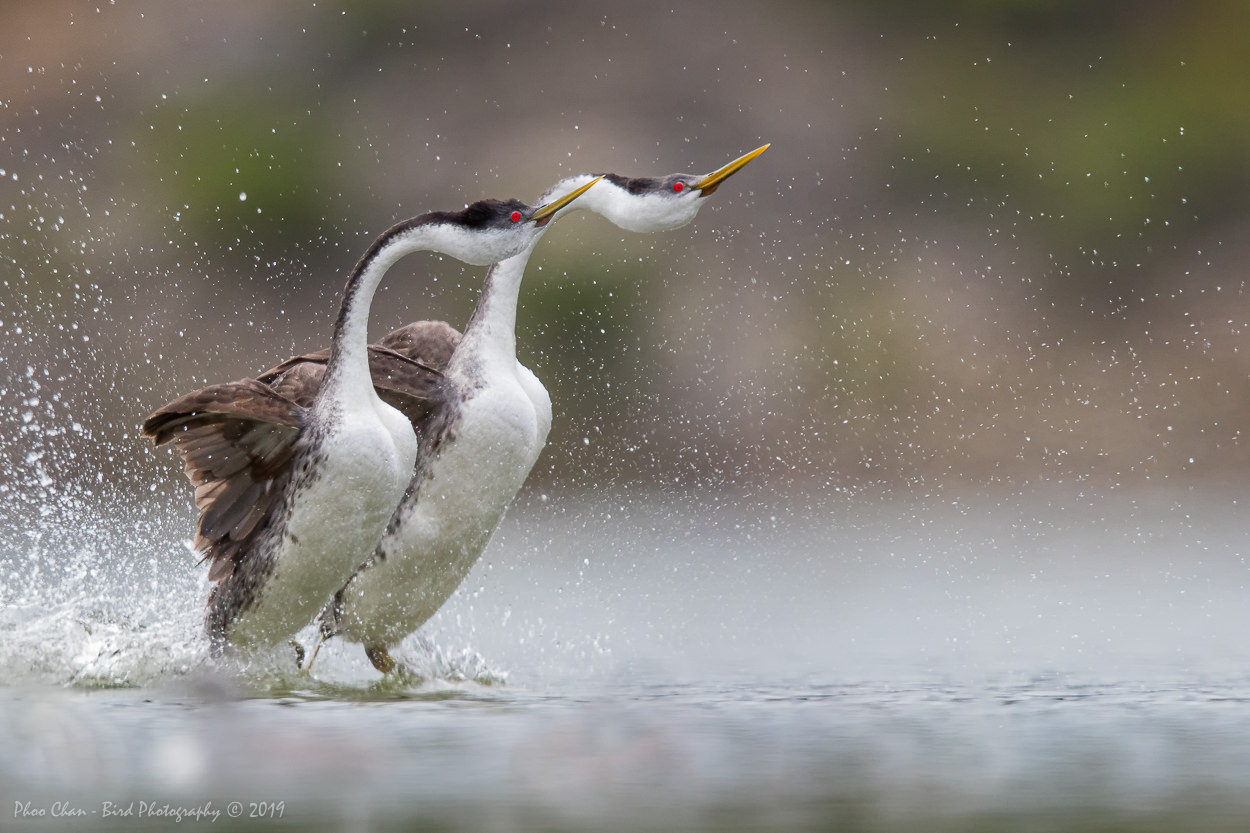 Indeed it poured so heavily that I had to slow down a few times due to such poor visibility. It took me a little longer not only because I usually ride my motorcycle which was faster and more fun, but also because on that Sunday I decided to drive so when I reached Calero County Park, the gate was already opened which was first time for me since I always arrived before the gate was opened.
For some reasons the grebes were not active in the rain and the rushing activities did not happen as frequently as I was hoping for. Because of that, I did not get the shots that I was visualizing for.
Furthermore, the rain also stopped for a long while and the cloudy sky suddenly disappeared as patches of blue sky became more visible. However, the lighting was still perfect since it was not harsh, so I decided to continue shooting. It was a good decision as a new chapter emerged with a twist.
A new scene faded in with a female grebe swimming along the tall green vegetation on the right side of the bank looking rather peeved. There were movements on her back.
"Mama, mama, he bit me again.."
"Please make him stop mama.."
Small yet high pitched chattering noises can be heard becoming in louder and louder.
"Oh yeah, she's not listening, whatcha gonna do about it..?"
Two cute little furballs in the backseat seemingly squabbling away while mama grebe looked perturbed and restless at the same time looking out for any threats.
With a scene like this, I was telling myself that I didn't really need the rushing shots anymore, which of course was not entirely true.. The two little fur balls were so cute that I kept shooting even though they were at too far a distance to get all the details. Lucky for me, they kept coming closer to my spot so I got some decent shots.
I always remind my photographer friends to start shooting the subject even if they are not at the best distance, just so that you at least have some shots in the event that the subject decides to take off. Back to our subject, perhaps being the only photographer there, my presence was not so obvious to them. It was debatable whether or not having my camoflauge outfit helped, but that's not the topic in discussion here.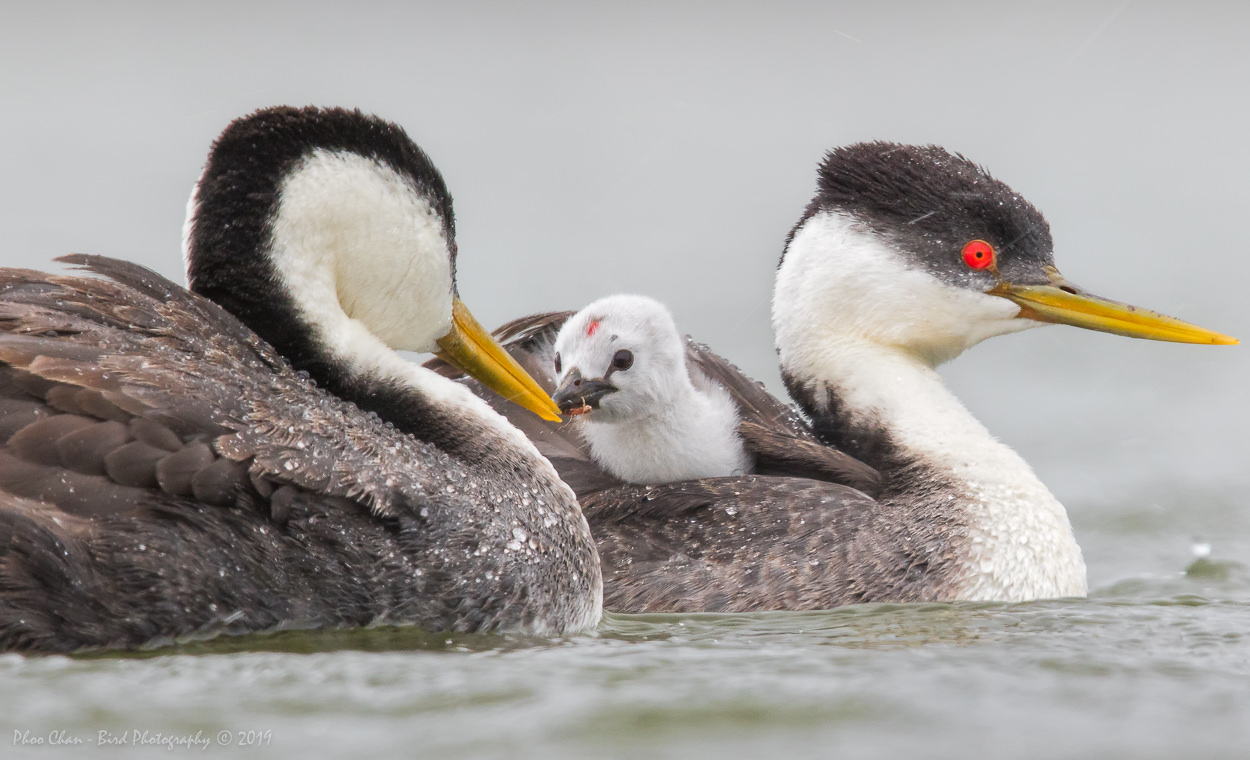 Both parents were very protective of the young ones and they were constantly chasing away other grebes that ventured close to their proximity. They would lower their heads to the surface level as a warning they they were ready to pounce away to the other grebes, although most of the time the other grebes just ignored the warning and had to be chased away.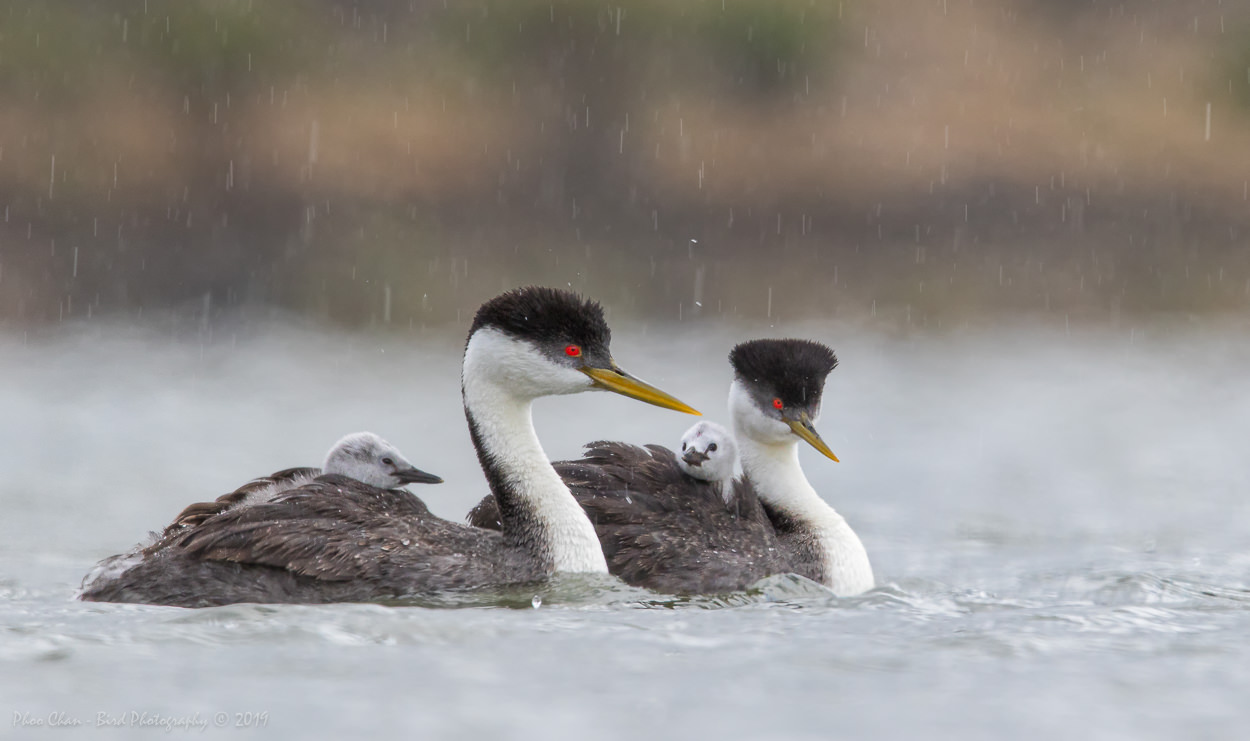 Despite all the commotion, the chicks were able to hang onto the back as if they had their seatbelts on. It would be very interesting to see if either National Geographic or BBC could do a feature on how this was possible.
Fast forward, the following weekend there were two more pairs with chicks on their back. The two chicks that I was shooting the weekend before grew so big that they had slightly lost their cuteness — what a difference a week makes for the grebes.
The parent occasionally feed their chicks with feathers. This unique feather-eating habit was rather quite common among grebe species. Among speculated reasons for this behaviour were 1) protection of the digestive tract; 2) enabling pellet formation; 3) guarding against or reducing parasites; 4) aiding digestion .
While we had three pairs being busy with their chicks, we still had other pairs performing the rushing. As per usual, being at the right place at the right time is part of the critical equation of getting good shots. Many said I was always lucky, but apparently that was not the case as more than half of what I posted were of 'butt shots' of them rushing away from me.
There were times when they performed an incoming rush, and I only managed to have a few keepers since most of them were clipped. However, those few frames were of full frame where cropping was not needed and the details were amazing.
This blog marked the second month I have been frequenting Calero County Lake every weekend for the grebes. There are few more shots that I would like to get and one of them is a close-up of the parents feeding sizeable fish to their chicks in calm water that results in not only good reflections of the grebe but the color of the background as well.
I did however surprised by a cormorant popped-up right in front of me with a fish which was totally unexpected so I took it as a bonus show.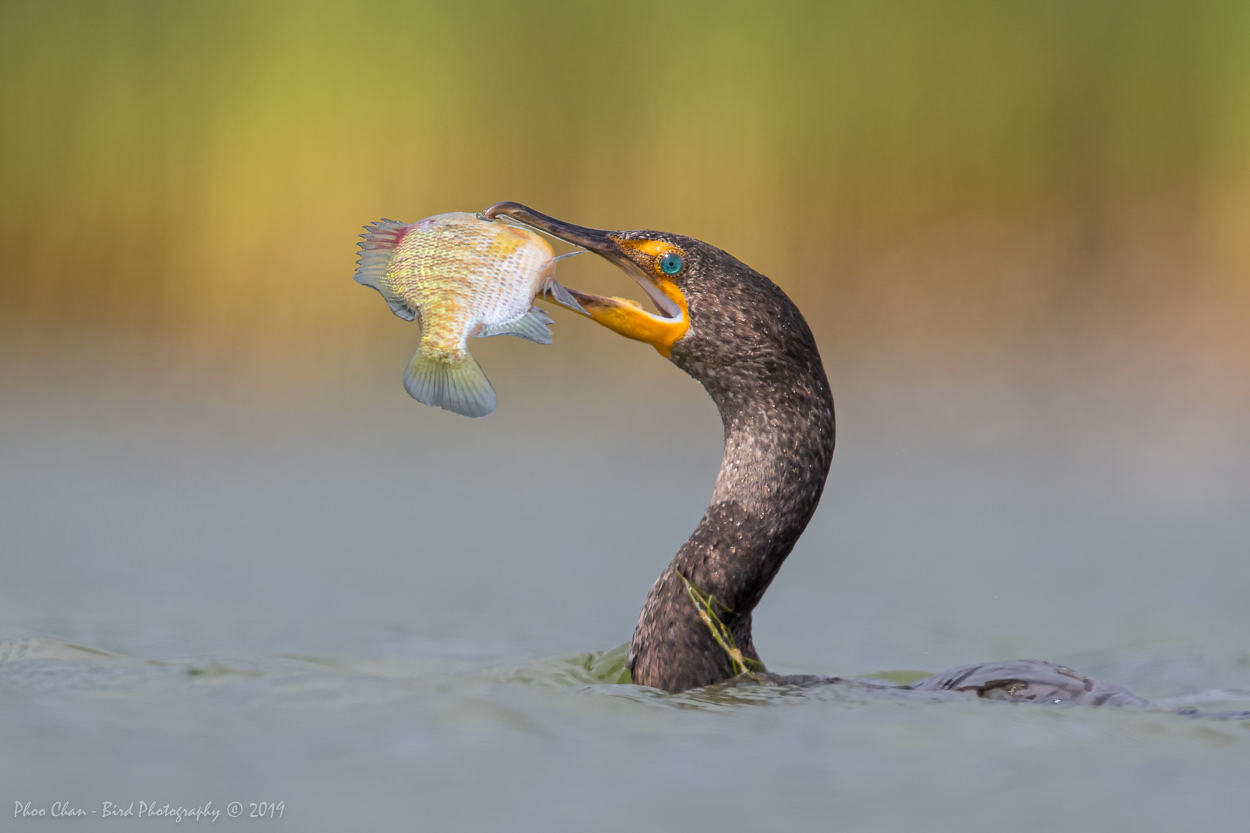 Nevertheless, it was amazing to witness how crucial this short nesting cycle was to the grebes in order to ensure their success to the new life they were after. They had to compete in performing the ritual and were always on guard until their offsprings successfully fledged. This repeats year after year..
Comments
comments